ACTIV IV ACUTE: Anti-thrombotics for Adults Hospitalized With COVID-19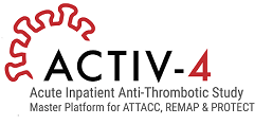 The ACTIV-4A adaptive platform trial is designed to assess therapeutic agents aiming at the prevention of immune- and non-immune mediated vascular inflammation/injury leading to thrombotic events. In this therapeutic space it will assess additional drugs that target cells along that pathobiological continuum, namely the endothelium, platelets and neutrophils, and other immune cells.
For further information: ACTIV4Inpatient@pitt.edu
Agent A VS. Agent B (reference)
Key Personnel
Judith Hochman, MD
Judith.Hochman@nyulangone.org
212-236-6927
Matthew Neal, MD
nealm2@upmc.edu
412-692-2850
Primary Outcome(s)
Days free of organ support.
Ordinal count of the number of days a participant is alive and free of organ support through 21 days after enrollment.
Population
Adults hospitalized for COVID-19 and expected to remain in hospital longer than 72 hours.
Intervention
Therapeutic heparin above standard of care or standard of care prophylactic dose of heparin.
Planned Enrollment
Up to 1,000 per arm as arms are added.
Power and Interim Assessments
Power is dependent on sample size. Some generic calculations:
1,000 vs. 1,000 will have 80% power for an odds ratio change of 1.25
400 vs. 400 will have 90% power for and odds ratio change of 1.5
200 vs 200 will have 90% power for an odds ratio change of 2.0
Interim analysis at 20, 40, 60, 80 and 100 percent enrollment.
Follow-up
Earliest Day 28 or hospital discharge with potential contact up to 1 year after discharge.